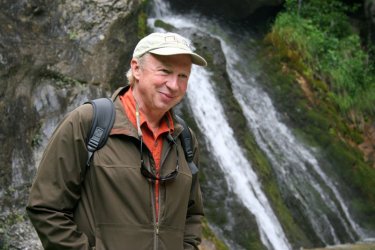 Richard has enjoyed an enviable travel career – over the past 30 years he's explored much of the world, made a number of first river descents and founded or was an integral part of several major travel companies. Recently we had a chance to ask Richard about his travel philosophy, career accomplishments and recent projects.

Q. Tell us how you became an adventure traveler and what still fuels your appetite for this type of travel?
I think I ended up in adventure… it was inspiration from my dad….he was a career officer in the CIA, part of the first class that came from Yale, and he truly believed he could change the world for the better, as the OSS did before him. He later found disillusionment with The Company, and returned to school to finish his doctorate, and he next became a sex therapist….even had a radio show, "Ask Dr. Bangs"….so, he inspired me in a number of ways.

Q. Tell us about your PBS special, "Richard Bangs, Adventures with a Purpose" and a little bit about these shows including your latest, "Quest for Pura Vida" filmed in Costa Rica.
I spent the early part of my career exploring the hidden crooks of the wilderness world, and was delighted to share the magic of these special places uncovered…but over time as I returned I couldn't help but notice how these extraordinary spaces had been degraded, dammed, diluted, desiccated, or outright destroyed…I also knew that when folks found a personal connection with these places, they then treated as though family, and would fight for preservation and integrity…..but, visitation numbers would always be low…figures inversely related to remoteness….so, I set out to reach a broader, influential audience, PBS, and moved forward with a series of specials that hopefully celebrate a destination, but also tells its stories in an evocative, emotive way, one that elicits connectivity, inspiration to visit, and to become involved….I believe it's working.

Q. You obviously have the entrepreneurial spirit – during your career, how did you go beyond the "safety net" and overcome your fear of actually following out your passions? I.e., there are a lot of reasons for people never to go beyond their comfort zone and as a result I think passions are often rejected in favor of what might be perceived as stability.
It's too easy to succumb to the low hum of ordinariness; the drone of stability….you are most alive when you can imagine your own demise….risk is the flame of the evolution of consciousness….I would rather die trying something new than live a long life of mediocrity.

Q. As somewhat related to the prior question, what would you tell the next generation as they explore how to purse meaningful work?
Pursue your passion….it is the only way.

Q. You have been on rivers and exploring rivers for much of your career (first descents of the Yangtze in China and the Zambezi in Southern Africa – and founder of Sobek Expeditions with its roots in river rafting) – what first turned you on to adventure river travel in particular?
The audio attached is a good tale of currents (see below) ….beyond the childhood immersions, though, I found the canoe while in high school, and paddled (and capsized) the rivers of the Eastern Seaboard, from the Potomac to the Shenandoah, the Cheat to the Youghogheny, the New to the Chattooga…then, when 19, I became a guide on the Colorado River through the Grand Canyon, and that spun the axis of my identity to guidedom. It was reading about a failed British attempt to raft the Blue Nile in 1968 that set up eyes to Africa….
(Richard reminiscing)
Q. Which travel authors do you admire and expand on why you admire them?
Bruce Chatwin… the 20th century nomad
John le Carre… who takes us from the salons of Berlin to the Peak in Hong Kong to Lake Turkana in Kenya to the mission songs of Rwanda
Paul Bowles… who entices us to get lost in the desert
Richard Burton…..he snuck into Mecca for god's sake…..the devil drives.
Philip K. Dick… plug in and take a trip to Mars or anywhere.
Vladimir Nabokov… Lolita is the ultimate road trip
Ken Kesey… he once crashed in my dorm room, so I owe him
Lord Byron… he was the first adventure traveler, hiking the Swiss alps, decoding the sublime, and singing its praises, inspiring millions to follow in his footsteps
So many more….
Q. You have been a supporter of Eco-Tourism for a long time – what is your role in promoting Eco tourism and who are some of the relevant organizations you are involved with?
The tension will always exist between the short-term economics of extraction and the long view of sustainability; I'd like to think emotional currency is part of the equation, and hope I can bring a voice to wildlife and wild places, a song of romance that comes with knowing and embracing…I'm a sucker for any organization that works to sanctuary our wildness…I was president of Outward Bound; several of my books were published by Sierra Club; I have boarded on International Rivers Network, Four Corners School of Outdoor Education, and others.

Q. While you are traveling, what inspires you?
Ahh…it is the only thing that approximates the wonder of childhood, where every corner turned is new, and every sight and sensation is fresh….travel, as Mark Twain supposedly says, is fatal to bigotry and prejudice, but it also reignites the internal combustion engine of the soul….I love finding new light, turning over new stones; falling into new holes…I love getting lost.

Q. Out of all your achievements in your long career, what are you most proud of and why?
Boy, there is a primal fission that is felt when you climb a peak or run a rapid….and as transcendental as that can be solo; it is even more apotheotic when shared….that's what makes me proud…sharing these places and the feelings they evoke.

Q. I see you strategically live close to LAX in Los Angeles (it is always a wise decision for chronic travelers and explorers to locate near major airports!) – what attracts you to living in LA and what are some of your favorite places to visit here?
It is close to the best airport in the world; but I love the sense of community and the ethos of environmentalism and the deep love of nature that courses thru the veins here….it is an intellectually curious place, but also one that doesn't just muse, but actually does….it is about movement, forward momentum, and fruition… I can't tell you my favorite places….nobody knows them, and that's what makes them special and quiet…

BIOGRAPHY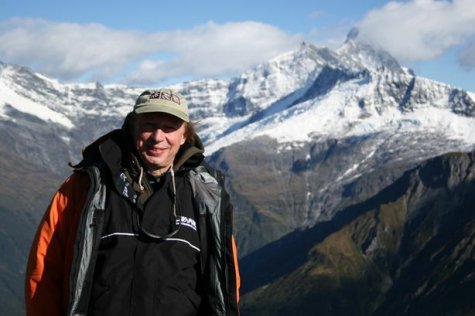 Richard Bangs has often been called the father of modern adventure travel, having spent more than 30 years as an explorer and communicator, pioneering "virtual" expeditions on the World Wide Web and leading first descents of 35 rivers around the world.
Explorer
Richard Bangs has often been called the father of modern adventure travel. He has spent 30 years as an explorer, leading first descents of 35 rivers around the globe, including the Yangtze in China and the Zambezi in Southern Africa. During that period he founded Sobek Expeditions, the first multi-national river running company and the pioneering outfitter for global active wilderness travel.
Author and Producer
Richard has published more than 1000 magazine articles, 19 books, a score of documentaries, several CD-ROMs, and all manner of digital media. He has lectured at the Smithsonian, the National Geographic Society, the Explorers Club and many other notable venues. He writes a semi-regular feature for HuffingtonPost.com, occasionally freelances for other print and online publications, and produces and hosts "Richard Bangs" Adventures with Purpose, as seen on national public television.
Entrepreneur
In the early 1990s Sobek merged with Mountain Travel to become Mountain Travel-Sobek (mtsobek.com), then as now a leader in international adventure and eco-travel. He began TerraQuest, one of the first online travel projects, and went on to Microsoft as founder and editor-in-chief of Mungo Park, a pioneering interactive publishing effort. He was part of the founding executive team of Expedia.com, and served as its Editor-at-Large.