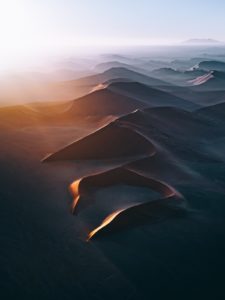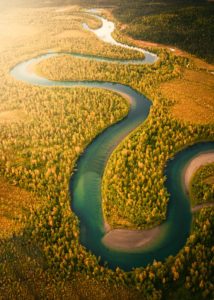 Q. I remember when I was on an airplane for the very first time. I was so excited that I asked to be seated next to a window. The view from the plane window was just breathtakingly amazing. The bird's-eye view provides a different perspective on the land below. You have produced a collection of cinematic drone masterpiece. Tell us what drew you to aerial photography in the very beginning?
I think my fascination for the aerial perspective began when I was very young and through movies. I remember watching movies in cinemas and I was always especially drawn and intrigued by the aerial scenes in them. As years went by and my film and photography took different turns all the time my mind was always still on the aerial perspective. From time to time when I was daydreaming, I usually thought of places and tried to see them from an aerial perspective. When drones were first available, I just laid my hands on one as soon as I possibly could and started to explore those daydreams I've always had.
Q. When you fly your drone over a landscape (lakes, islands, desert etc.) or a view of local people living their lives (fishermen, village etc). Generally, what kind of story or message do you want to tell in these photographs?
I want to deliver a feeling, a feeling of being there right in the moment with me as I take the photo, I try to focus more on photos that tell a story trough the images themselves. The subject I choose to take photos of I want to capture as natural as possible and I spend most of my time planning and look for good conditions to photograph them in.
Q. Can you briefly tell us where in Slovenia did you take these amazing drone shots?  Why are these places special to you? What did you miss most about these places/landscapes?
Slovenia was a place I had very little information about when I was there, except for Lake Bled. I practically didn't know anything more than that according to my calculations it was hopefully going to be a few cloud inversions and fog in the country. So, I decided to go there for a couple of days just to witness the beautiful atmosphere. As I entered Slovenia, I immediately fell in love. Everything from the lakes to the mountains to the small rural villages kept me asking for more and wanting to see more. When my time in Slovenia was over, I instantly started to miss it and was planning for my return. I hope I could go back to Slovenia one day and see more.
 Q. You call Dolomites in Northern Italy "Home away home"  Beautiful leaf colors, ridges, valley, rocks .. Tell us how did you take these photos? Were you on a trek when these photos were taken? Tell us some of the experiences and what these photos mean to you?
Dolomites has become like a home away from home for me over the years. It started with me going on my own for autumn photography. Lately, I have been inviting my family and friends there every year as well where we hike and just enjoy the incredible surroundings the Dolomites offers. After that, I will stay on my own for photography. When I am in Dolomites, I trek and enjoy the incredible sceneries close by. The Dolomites during autumn has a lot to offer so I do pretty much everything I can depending on what conditions will be like.
Q. Tell us your experiences in Namibia? What are the most unforgettable experiences during your stay in Namibia? Tell us what are these Namibia photos (sand dunes, desert, ocean and native people) mean to you? How was your experience with these local native people and wildlife?
Thinking back on my trip to Namibia, I would say basically everything I experienced there is unforgettable. I went to Namibia to find my inspiration for photography and myself after a long period of a creative block. Namibia was new to me in so many ways and I just wanted to feel and experience the country with no preconceived thoughts. I took my time to enjoy every new day and it was just simply put incredible. Namibia is amazingly wild and so full of life at the same time. Instead of just focusing on the Namibian landscapes, which I normally would do, I wanted to experience everything I possibly could.
There were just too many unforgettable moments. Everything from the up-close encounters with the Namibian wildlife to the helicopter flights in the Namibian desert. I have always wanted to capture the desert in a cloud inversion so when I saw there was a chance, I just went for it. It was an incredible ride and I enjoyed seeing these mountains of sand dancing in the fog as the sun was rising.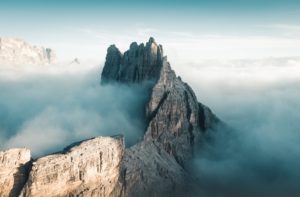 Q. I was blown away by a fisherman's shot you took in China. Can you tell us how did you take this shot and how you edited it to have this outstanding cinematic effect? Tell us the moment when this photo was taken? Also, can you briefly tell us your experience in China and what China means to you?
I was at a barn in South East China where the fishermen were repairing their nets. In order to get this particular angle, I had to be a bit creative in my positioning and it involved some climbing in the barn. The sun shined through the barn doors and the image itself was barely edited.
As with Namibia, I just wanted to focus on whatever I could possibly do and see in a 2-week trip. I took in as many as I possibly could and will definitely go back again. There is just too much to see and do in China.
Q, You have had a fascination for Lapland since you were young.  Tell us how did you fall in love with Lapland and what Lapland meant to you when you were young? Tell us some of your travel experiences in Lapland and what are the activities that you would recommend to visitors?
Yes, I always have a fascination for Lapland. It all started with him seeing a photo of his father with grandparents watching reindeer in Lapland. The image stuck in his head for years. I always listened closely to stories from Lapland and continued to grow my anticipation for the region. Lapland hasn't really meant anything for me growing up more than it's always been a destination I always feel at home with.
When I go to Lapland I don't want to focus on any specific locations, I like the wild side of Swedish Lapland, which puts me in to a lot of tests of strength. Being alone in this incredible nature just taking the days as they come has always been my drive. As a visitor, I would definitely go explore the Northern Lights at night and maybe set out on a trek to the Kings trail to truly experience this amazing nature.
Editor's note: all photos courtesy of Tobias Hägg.
Biography:

Tobias Hägg, also known as Airpixels on social media is an accomplished photographer and aerial artist known for his powerful landscapes combined with his eye for details, patterns & simplicity. Passionate about exploring landscape, adventures and the great outdoors Tobias travels to the farthest expanses of earth capturing unique moments from unique perspectives through photography and film.
Tobias has produced, directed and featured commercial content from all around the world working for a wide selection of internationally acclaimed clients. His work has been featured on National Geographic, BBC, Daily Mail and The Telegraph. 
Learn more about Tobias Hägg: www.airpixelsmedia.com