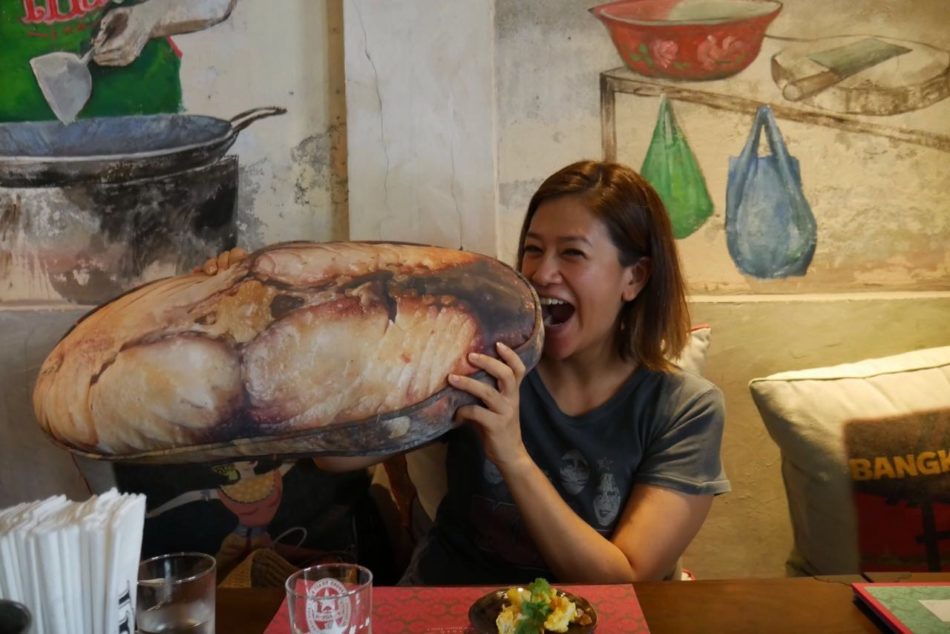 Chawadee Nualkhair, who often refers to herself as Chow, is a Thai-American originally from Pittsburgh. She now resides in Bangkok with her husband and two children. As a freelance journalist, her primary focus is food writing. Her blog, 'Bangkok Glutton' is a must-read for those who love Thai street food. Chow made a guest appearance on a popular episode of the Netflix travel documentary series 'Somebody Feed Phil,' showcasing the culinary delights of Bangkok.
Q1. Please introduce yourself and tell our readers how you went from Pittsburgh to Bangkok and what led you to start your food blog.
I came to Bangkok with my family after my dad got a new job there. I expected to stay only a year or two before I could get back to the US where I thought I belonged. That was in 1995, and I am still in Bangkok.
Food has played a big part in the reason why I'm still here. The food, especially on the side of the street, was so exciting and different from what I was used to in suburban Pittsburgh.
The only problem was, I was too intimidated to try out the street food on my own. The blog, which started in 2010, came about as a way to keep track of the street food places I was researching for my first guide, "Bangkok's Top 50 Street Food Stalls".
Q2. As a food lover, I am sure you have many preferences. If you could highlight 2-3 lesser-known, genuine local restaurants in Bangkok that you have enjoyed the most, what would they be and what made them stand out to you?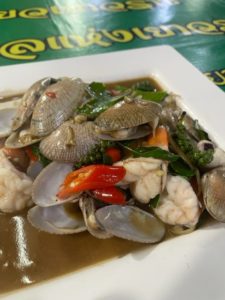 I've always loved Nakorn Pochana, which is also known as "Nai Hai" among its regular customers. There was a time in the 1900s when Nai Hai's neighborhood, Sam Yan, was known as the premier destination for Thai-Chinese seafood, and it was full of those types of restaurants, all selling similar menus.
In fact, Somboon Pochana, known for inventing the Thai version of stir-fried crab in curry sauce, is still in its original location, close by to Nai Hai. However, Nai Hai is, in my opinion, the better restaurant.
I also like Fikeow in Yaowarat (I seem to really be partial to seafood places) because it's simply fun. The live seafood is on a counter at the front, and you can pick and choose what cooking method you prefer, or just point to what's on the menu.
Most people come to see the flames leaping from the wok every time someone orders stir-fried morning glory, but my favorite dish is the lobster with the head stuffed with chili and garlic.
Q3. What are the major changes you have seen in the Bangkok food scene in the last 10-15 years, and what do you think the future of the Bangkok food scene will be like?
It's gotten a lot more restricted, because people can't set up anywhere they like anymore. There's less choice. You don't hear of "new" places breaking through into the public consciousness anymore.
Nowadays, when a food stall makes enough money, they make the choice to jump to shophouse/air-conditioned restaurant more quickly now, because they get hassled less. It's a special place that sticks to being strictly street food in spite of its success, like Nai Mong Hoy Tod.
My hope is that this need to "control" and restrict street food development will inspire property developers to find a way to create a central, accessible space for street food vendors to sell their food that will also be profitable to the developers (because capitalism).
Q4. In your opinion, what makes Bangkok's food scene unique compared to other cities in Thailand?
Bangkok is simply a giant compared to the other cities in the country. Like, by far. With this huge population, of course there would be a wide breadth and range of street food options unrivalled by anything else you would see in Thailand.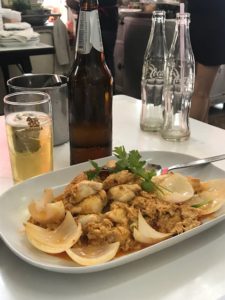 Q5. Could you share a story about the cultural significance of certain dishes or food rituals in Thailand?
In the Central region, there is a dish that only comes out in the summer called "khao chae" (summertime rice). Only when restaurants start serving it can you consider the summer officially started.
When it goes off the menu, the rainy season has begun. Some places serve it year round, but that is not considered quality khao chae. Some of the oldest families in the country pride themselves on serving excellent khao chae made by their own personal chefs.
Q6. It could be tough to choose the best Thai street food. What is your approach to selecting the absolute best ones for your book?
I eat a lot. I ask around a lot. Thais always have very strong opinions about what is and what is not good food. We did not have a soccer league for a long time, so for decades, street food vendors were the way that people debated things and bonded.
Q7. Tell us about your culinary journey that deeply influenced your approach to cooking and publishing your own cookbook?
My time in the North convinced me that many people abroad are only seeing a tiny sliver of what people in Thailand eat. That's what made me excited to show people the actual recipes of dishes that show up regularly on my table, as well as on other families' tables all over the country.
Q8. I'm a big fan of "Somebody Feed Phil" and I can't get enough of it. I love the way Phil connects with people and cultures through food. What are some of the fun experiences you had working with him?
I bet Phil would love that! I only met Phil a couple of times, once at the floating market and once at Wat Pho. He was fun and gracious both times, and extremely easy to talk to (I guess you have to be in order to host a TV show).
He was generous enough to write a blurb for my cookbook, which was very kind of him. One thing that happened off-camera was a massage at Wat Pho, which is the birthplace of Thai massage.
Unfortunately, they did not allow cameras into the massage room, which is one big common room instead of separate private rooms. We had to have massages side by side, which might have been kind of awkward for him. He is surprisingly slim for a guy who eats all over the world!
Q9. Finally, your message to our readers?
Go out and explore. See for yourself. Make your own decisions. Don't rely on guidebooks, not even mine!
All Photographs credit: Chawadee Nualkhair