Don George is a prolific travel writer and editor. We recently had a chance to ask him about his latest travel book, thoughts on his long career and the popular annual Book Passage Travel Writers conference which he helped start.

Q. Tell us a little about the new Lonely Planet book, "Lights, Camera…Travel!" that you co-edited with actor and travel writer Andrew McCarthy.
"Lights, Camera…Travel!" is a collection of 33 stories by actors, directors and scriptwriters. The book's premise is that since the Ancient Greeks, actors have been society's storytellers. And ever since Hollywood first left the back lot, these storytellers have been traveling to far-flung corners of the world to tell those tales.
We asked some of the most widely traveled people in the film industry to sit down and tell us their own stories – personal, inspiring, funny, embarrassing and human experiences from their time on the road.
"The responses were very enthusiastic and we collected a wonderfully varied assortment of tales, set around the world. Contributors include Alec Baldwin, Brooke Shields, Paulina Porizkova, Eric Begosian, and Sandra Bernhard. The stories are surprisingly personal and revealing – and they re-affirm how travel can enrich our lives, whatever the setting and circumstances.

Q. You are the co-founder and chairman of the Book Passage Travel Writers and Photographers Conference. Tell us about this unique annual conference held in Corte Madera (Marin County, California) – and what was the inspiration to start this?
The Book Passage conference was the brainchild of Elaine Petrocelli, the owner of Book Passage bookstore, which is a truly terrific independent bookstore that promotes great writers and great writing. Elaine called me when I was Travel Editor at the San Francisco Examiner & Chronicle, and said, "I have a crazy idea: What if we put together a four-day conference teaching and celebrating great travel writing and photography, with workshops and panels and evening events?" I thought that was a terrific idea and I asked Jan Morris to be our inaugural guest of honor and she graciously agreed. That was 21 years ago and the conference has been thriving ever since. We bring together the best editors, writers, photographers, agents and publishers for four days of intensive sharing – it's like summer camp for travel writers and photographers. We have workshops in the morning, panels on craft, business and current issues in the afternoon, and special events like readings, on-stage conversations and slideshows at night – along with some killer karaoke. And it really changes peoples' lives. In the increasingly competitive fields of travel writing and photography, I'm stunned by how many successful writers and photographers have gotten their start at the Book Passage conference.

Q. What attracted you to travel writing and how did you ultimately become a travel writer?
That's a very long and winding tale that is best told over copious beers, but to summarize it: Since high school I have loved both writing and travel, but for many years I didn't put the two together. I wanted to be a poet. When I was faced with graduation from college, I was utterly unsure what I wanted to do next – and happily, I won a fellowship to teach for one year at Athens College in Greece. After that year of exuberant wanderlust, I realized that I wanted to find a way to keep wandering and learning. I got a Masters degree in creative writing (writing a chapbook of poems for my thesis), and then won a two-year fellowship to teach in Tokyo. During that time I began to write travel stories and I realized that I might be able to combine my two passions: traveling and writing. I returned to the States and settled in Berkeley, and within a few months an extraordinary string of serendipities had left me in the position of travel writer at the San Francisco Examiner. That changed my life.

Q. While you are traveling, what inspires you?
Encountering and absorbing newness inspires me. I love meeting new people, experiencing new places, learning about history, arts, traditions, foods, beliefs – the whole patchwork of humanity. Essentially, my quest is to learn, to experience, as much of the globe as I can. And within that, the goodness and kindness of people everywhere inspire me greatly. I have always found that if you approach the world with an open heart and mind, you will be welcomed and embraced the same way.

Q. Out of all your achievements in your career, what are you most proud of and why?
First, while I realize that they aren't "achievements," I have to mention my two children, Jenny and Jeremy. The greatest journey of my life has been traveling with them as they have grown from infants to children to teens to young adults. They have both grown into exceptional and inspiring people, full of heart and courage and idealistic dreams, and of all the treasures in my life, I am most proud of them.
But now to speak more precisely of my own achievements, I would say three:
1) "The Lonely Planet Guide to Travel Writing." I've poured everything I've learned in a quarter-century as a travel writer and editor into this book (and its updates, the next of which is scheduled for 2014), and I think (judging from the great emails and letters I continue to receive) it has been helpful to many people in starting and nurturing their own careers.
2) "The Kindness of Strangers." This is the first anthology I solo-edited for Lonely Planet. I love all eight of the anthologies I've edited in my life, but this one is the closest to my heart, because the theme is a lesson I've learned over and over and over again in three decades of traveling around the world: that when you travel, something inevitably will go wrong, and when it does, someone will unexpectedly – and equally inevitably — appear to help you. I think this is a message the world needs to hear now more than ever, and the tales in the book make this point very poignantly.
3) The Book Passage Travel Writers and Photographers Conference: I've been teaching day-long and multi-week workshops for many years – I love teaching – but creating and chairing this conference has raised that activity to an entirely new level. I love the way the conference has evolved through the years – recently, for example, we've focused much more heavily on digital writing and photography, blogging, utilizing social media – and yet at the same time has never lost its focus on enabling people to try to reach their dreams and to shoot for excellence in their chosen craft. It's always a highlight of the year for me, and I'm humbled beyond words at how many people have taken the workshop and have had their careers propelled and their lives changed by it. To be a part of that process has been an enormous privilege for me.

Q. What advice can you give young travel writers today?
Read my book! Really, everything I would say to an aspiring travel writer is in those pages. Otherwise, attend a travel writers' conference. Network. Join a writing group. And read great travel writing – in blogs and magazines and books. Read for enjoyment and for education. Deconstruct the pieces that move you and absorb how the writer did what he/she did.

Q. If you had to decide which destination has been the most influential in your life (outside of the United States), which destination would you choose and why?
The three places where I have lived abroad: France and Greece, because they opened me up to the wonders of the world right out of college, when I was trying to decide what to do with my life, and Japan, because it showed me that the life-assumptions I grew up with are not necessarily shared by the rest of the world, and because I met my wife there, and she has been an integral part of my life's adventures ever since.

Q. You're obviously both a prolific writer and editor – which do you prefer doing and why?
I feel tremendously blessed that I've been able to do both throughout my professional life. The writing feeds the part of me that needs to shape and share my experience — and make sense of that experience — through words. The editor has always lent stability to my life – freelance writing is definitely not synonymous with stability – and has allowed me to fulfill the part of me that likes to create meaningful editorial picture-puzzles. Every travel section, magazine or book I've edited has been a mosaic of stories in terms of setting, theme, activity, voice, and tone. Creating that whole – and inspiring/helping writers to create the very best piece they can — is a supremely challenging and fulfilling experience every time.
I'm very grateful that I've never had to choose between writing and editing, but if I did have to give one up, I would choose to continue writing. Writing fulfills a deep part of me that nothing else can. There is nothing more creatively joyful than putting together a sentence or a paragraph or an entire piece that fully conveys what I want to say. Being able to share that with others – and to get their feedback – multiplies the joy.

Q. You currently live in the San Francisco Bay Area – what are some of your favorite activities and or places to visit in the "Bay Area"?
For me, the Bay Area is the perfect place to live. It's physically beautiful, it's culturally sophisticated and cosmopolitan, the weather is generally great, the restaurants are amazing, and it has the most enlightened community of people I've found in all my travels. I love so many places and activities here, it's very hard to mention just a few. But among my favorites, in random order, are exploring Tilden Park in Berkeley and Golden Gate Park in San Francisco, walking across the Golden Gate Bridge, art-tasting at the Museum of Modern Art and the Asian Art Museum in San Francisco, walking around Lake Merritt and strolling Piedmont Avenue in Oakland, absorbing Muir Woods and Stinson Beach, and writing at Caffe Strada in Berkeley (where I am sitting and typing these very words on a brilliant sun-and-blue-sky March day).

BIOGRAPHY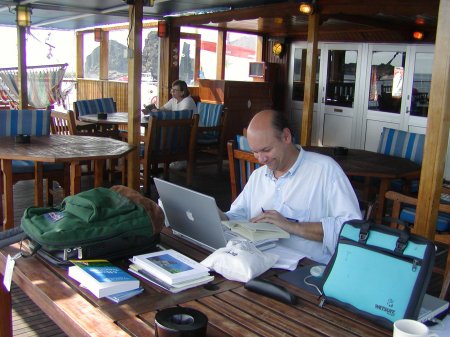 Don George is Editor at Large and Book Review Columnist for National Geographic Traveler and Special Features Editor and Blogger for the popular travel website Gadling.com. Don has been the Global Travel Editor for Lonely Planet Publications, and the Travel Editor for the San Francisco Examiner & Chronicle and for Salon.com. He has written the bestselling Lonely Planet Guide to Travel Writing, and has edited eight acclaimed anthologies, including The Kindness of Strangers, A Moveable Feast, By the Seat of My Pants, and most recently, Lights, Camera…Travel!
Don has received dozens of awards for his writing and editing, including the Pacific Asia Travel Association's Gold Award for Best Travel Article and the Society of American Travel Writers' Lowell Thomas Award. He appears frequently on NPR, CNN, and other TV and radio outlets, is a highly sought-after speaker, and hosts a national series of onstage conversations with prominent writers. Don is also co-founder and chairman of the annual Book Passage Travel Writers and Photographers Conference.