I first met Lisa and George a number of years ago at an event in Los Angeles. Their unbridled enthusiasm for International travel is truly contagious. Few people are lucky to go on one Round the World Trip (RTW) in a lifetime; Lisa and George have been privileged to experience two RTW trips and in fact at the time of this interview, are currently in the midst of their 2nd RTW trip.
The circumstances around receiving this interview were somewhat sketchy. I received emails from Lisa over the course of 4-5 weeks indicating the interview had been lost due to a broken laptop that occurred somewhere in rural India. She and George resurfaced recently in the tech savvy capital of Malaysia and were able to pull the "missing" interview off of their battle tested computer. Here it is, in its entirety.
Q. Tell us a bit about your website, wesaidgotravel.com, your goals for the site and how long it has been around?
Lisa: We started www.wesaidgotravel.com in June 2010 just before we left for a summer in Sri Lanka and the Maldives. We got married on December 19, 2009 and before we were married, always talked about writing as "He said, She said." Once we were married, we decided to use the name "We said." Later, we added the tagline: Passport to a Global Community and since March 2012 over 100 writers from around the planet have added their posts to our site.

Q. You have been on several Round the World Trips (RTW) and are currently in the middle of one now! Tell us about the challenges you face when planning trips of this magnitude (especially considering you do have a home base, apartment etc).

Lisa: Since we have been on several long trips, it is now fairly simple to get out of town. We have rented our condo four times so we have a plan of what to put in storage and we have a locking cabinet in the condo and built one in the garage. George's friend looks after his cat, Bob Dylan.
George: We have streamlined the things we own through a series of great purges.

Q. How do friends and family react to your long travel plans?
George: At this point, we have been on so many trips, we don't seem to get much of a reaction. People seem used to it. However, our friend's daughter was a bit upset and did say, "You are going away again!"

Q. What are your travel plans for the rest of your current RTW trip?
George: We are in Nepal until April 15 when we fly on AirAsia.com to Kaula Lumpur, Malaysia. We are planning to travel in Eastern Malaysia and Southern Thailand for a few months. After that we will use either the dice of price or some kind of sign to determine what to do next. We have ideas to continue heading North East in Asia to Korea, the Philippines and maybe following in your footsteps to Palau.
Lisa: The Dice of Price is when we see which flight is the cheapest and go there! Our new best way to figure that out is with the app, SkyScanner.

Q. You both have visited over 100 countries – this is always a challenging question when you pose it to people as well traveled as you guys, but what are several of your top/most enjoyable destinations that you enjoy returning to as a traveler?
George: Asia. More specifically Thailand, Indonesia, Nepal.
Lisa: I agree and would add Mongolia. We also really like the South Pacific but it does not fit in our one-year budget.

Q. Lisa – tell us about your time working on a cruise ships – that is certainly one way to see the world, versus how you are traveling now – independently.
Lisa: Traveling as a backpacker with no plans of where to stay was a huge adjustment for me after living in a five star moving hotel. I was very concerned that we would end up sleeping on the streets. During our first year sabbatical, we did have nowhere to sleep twice. Once in Yogakarta around Christmas time, we drove most of the night in the rain in a taxi and found over forty hotels that were "penu" or full! Another time in Koh Samet, Thailand, we arrived on a Sunday night during a three-day weekend and full moon party, and ended up sleeping under that stars on benches at a bar. Both times it all worked out and now I just don't worry anymore! I have to say working for Princess Cruises, I always had a room to sleep in and I always knew where we were going, but I like traveling with George much more!

Q. Tell us about 1-2 of your most memorable experiences during your travels.
George: Getting engaged underwater in Koh Lipe, Thailand during our first one-year sabbatical in Asia on our second year anniversary January 18, 2009 during our first year sabbatical in Asia. Our eleven-day adventure in a van in the Gobi Desert, Mongolia at the end of our sabbatical year in 2009 was one of the most memorable.
Lisa: Visiting the Shwedagon Pagoda in Myanmar in October 2012, which is a site that brought us together when we met online in 2007. And definitely trekking in Nepal in February and March 2013.

Q. What are you doing to grow your website?
Lisa: My most recent idea came about in Konark, India. We went to the UNESCO Sun Temple and they were having a Sand Art Festival. George and I were inspired to create our first Travel Writing Contest. We had over sixty writers from USA to Uzbekistan and from UK to Uganda participate. We cannot wait for our Summer Travel Writing Contest to begin in May. The theme will be on Freedom and end on Independence Day July 4th, 2013. We hope some of your readers will participate! http://www.wesaidgotravel.com/writing-contest

Q. I think you guys are one of the few travel bloggers to have been featured in the Myanmar Times – tell us about how this happened!?
Lisa: During our 27 days in Myanmar in October 2012, we read "The Myanmar Times" which is the only English language paper in the country. Figuring "if you don't ask, you don't get" I emailed TMT and offered a story about an American perspective on the Inle Lake Pagoda Festival. It turned out my story was in print during President Obama's historic visit. Read the article here.

Q. Since you both call Los Angeles "home" when you're not traveling around the world what are some of your favorite experiences to enjoy in or around the City of Angels"?
George: Walk on the beach and hike in the mountains. See movies and have delicious varied food.
Lisa: In Los Angeles, George and I love to eat at Lula's Mexican restaurant near Casa Del Mar where we had our first date and got married. I cannot wait to go to Little Hong Kong's near our condo in Brentwood and eat great Chinese food. When we are home, we see friends, run travel events and go to the beach.

BIOGRAPHY: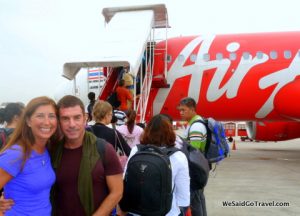 Lisa Niver Rajna, M.A. Ed. is an accomplished travel agent, blogger, speaker, science teacher and member of the Traveler's Century Club, a unique travel club limited to travelers who have visited one hundred or more countries. Lisa Niver Rajna was recently on National Television as a science teacher on the show Career Day. She is a 2012 nominee for the Presidential Awards for Excellence in Math and Science Teaching. She traveled across six continents with Club Med, Princess Cruises, Renaissance Cruises and Royal Caribbean International.
George Rajna, MBA, MS Communications Disorders, is a bilingual speech therapist who has traveled to 100 countries across six continents. He composes music on the guitar and ukulele, and spent two years working in rural education for Peace Corps Paraguay. George recently took a career break for one year in Asia and can't wait to take another extended travel adventure to exotic locations.
Visit their travel website, www.wesaidgotravel.com for more stories from the road.